When considering how to connect to your community and share information about your small business, it's a great idea to include Sponsorship as part of a complete marketing plan.
Why Sponsorship? It can be a Win-Win for both your business, and the community, as sometimes, it takes a Village to make these events successful.
Many small businesses are approached by non-profit groups and organizations to give a 'donation' to the cause, and most often a cash infusion is requested. Without these kinds of donations, many groups simply could not afford to fund their charity events and initiatives, and so depend on the generosity of others and their ability to contribute. It can be a burden for the small business, however, if these contributions become frequent and costly, and don't return to the company as a form of effective advertising or promotion; No matter how minimal, any way to have your business name recognized can be useful.
A few questions to ask yourself before writing that cheque:
1. What will this sponsorship offer in the form of public engagement and advertising for my small business? How will the organization recognize my contribution?
2. Does the organization have any social media platforms, posters, online links, website, or print advertising where the business name or logo can be properly recognized?
3. Can I offer something else of value to the Sponsorship? Do I have any relevant skills that might be of assistance for the event or group, instead of a monetary donation? Could I be a volunteer of time or other resources?
4. Will the donation I am making be going directly to the charity or how will the funds be used to support the group or event?
Larger corporations see the value in sponsoring high-traffic events. A case in point is the Montreal Grand Prix. I lost count at how many different logos were plastered all over every possible surface relating to the event, and also realized the millions of impressions this made to a qualified audience. Scale it down to where many of us live, in small business land, and make an informed decision when it comes to local sponsorships.
A local sports team is a great way to start your sponsorship journey. Funds donated will often allow the business to have a name on a shirt, allow handouts to the organization, have a link from their website, and a social media sharing opportunity. Your name gets out there, and the kids benefit from your donation directly. Many organized groups are doing more to give back something to the business donating, it's good to ask how your money will be utilized and what the team can offer in exchange.
Community events are a great way to get your name out to a local audience. Put your support into a Festival, Event, or charity fundraiser. Share the event information on your social media, and ask if they can mention your help on their platforms, with a link to your website. These local groups will be happy to post, print, and share your information in exchange for a donation.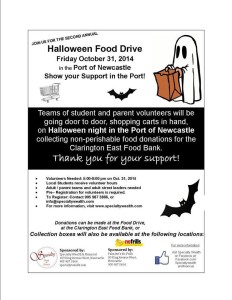 Create your own community event! Sit down with your team and discuss a local charity that could use your support. A great example of creating a local sponsorship event is the Halloween Food Drive, sponsored by Specialty Wealth & Financial in 2013 and 2014. The business not only helped to raise hundreds of bags of groceries for the Clarington East Food Bank, it gave it's time and resources of staff to bring together over 100 volunteers in the community, giving students some valuable volunteer hours and a great life experience. The event is so popular with area residents that many volunteered their time, and had bags of food ready to give to the event on Halloween night. Well done, Specialty Wealth, what a win-win for everyone involved!
The sponsorship campaign allowed the business to send it's name out to an audience of countless thousands, with a front page newspaper article, you tube video, posters, online with social media, and goodwill in the community. Many supporters shared the information, and even though a small scale event, had an exceptional reach for the investment.
WATCH THE YOU TUBE VIDEO OF THE HALLOWEEN FOOD DRIVE
Volunteer your Time! Join a local non-profit and spend a few hours a week or a month to donate your services. It's a very rewarding experience to give back, and your efforts will be recognized by the group, helping with Engagement with the public. Is there a festival coming up, a parade, a local fundraising event, or a non-profit that could use your skills? Ask around in your network to see who might use some help.
So, when you write that cheque, think of helping the group or event, and your business at the same time. Sponsorships are a Win-Win for all involved.
ConsumerView Remote Marketing Services can assist with finding the right Sponsorship opportunity for your small business in Durham Region. Contact Victoria to discover options that suit your marketing plans this year. Victoria is happy to continue to sponsor local community groups as part of a 'give-back' mission in Clarington, Ontario, with the Newcastle Harvest Festival, and the Newcastle Canada Day Celebration. In collaboration with 368 Durham, Victoria is happy to share the SHOW SOME LOVE FOR YOUR FAVOURITE DURHAM REGION NON-PROFIT Campaign this June. For more information, visit the website at http://www.368durham.com/nonprofit/